Over the years, Ninja Warrior style obstacle courses have grown into an immensely popular full-fledged activity. Modelled after military obstacle courses, they have become a must for any serious leisure venue, and a fun way to exercise. 
---
Our ninja warrior play equipment, while less combative than a military camp, can nevertheless be very athletic. Combining strength, speed, and agility, each course can be adapted to all levels, from easily accessible to extremely competitive. Players use their physical strength but their mental faculties as well. Our ninja warrior parks are also very flexible. They can be adapted to any facility, and elements can be added or removed according to current trends. Adding new challenges to your ninja warrior activity is simple, and excellent for business as it creates exciting new adventures for returning customers.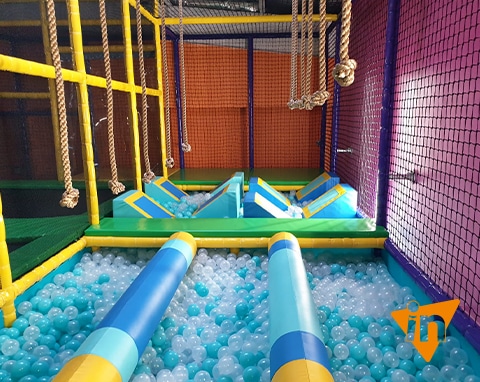 As an experienced ninja warrior course manufacturer, we can build any model you might need for your indoor play area. You get to choose the difficulty level and the designs, whether to use soft or hard components, rope or climbing elements.
And as a ninja warrior course is also about racing against the clock, every one of our indoor ninja warrior equipment has a timer so that players can challenge each other and even set new records! 
All ninja warrior course activities
Discover our different ninja warrior equipment and build your own
ultimate obstacle
course according to your criteria, desires and
business
expectations. The equipment is classified by category and can be customised.
It can be installed around an existing facility or designed as a new bespoke indoor activity.