The new indoor leisure trend is to combine various activities under one roof. Developments in recent years have demonstrated the importance of promoting family-friendly venues. The multi-activity complex's strength lies in its ability to entertain the entire family while also being accessible at all times.  
---
As leading suppliers in the business, We can help you design bespoke indoor family play centre activities that meet your expectations and you clients' wishes. Based on the characteristics of your building, location, and goals, we manage your project from the design of building layouts to the training of your employees. As a matter of fact, we can assist you throughout your project or just for a specific task. It's up to you to decide what fits best. Whether you prefer trampoline parks, soft play playgrounds, but also climbing walls, laser tag, or bowling… we adapt our offer to your needs and provide industry specific expert guidance. 
Planning the perfect indoor play area can be daunting. Because of our extensive experience in the manufacturing of commercial playground equipment, we can also advise you on the best way to manage flows, spatial organisation, pick activities, as well as on decorations, security, and human resources. We will work with you to find the best solutions.
Contact us to arrange a visit to one of our family indoor play centres or to discuss your project.
TAKE A LOOK AT OUR PORTFOLIO OF INDOOR PLAYGROUND CREATIONS
All our activities for Indoor play Centers
---
Play is an important part of growing up. Regular play sessions help children improve their ability to concentrate and learn. And that fun can be shared by the whole family!
Discover our wide range of indoor playground activities, our different products and services for your fun-packed spaces. Customize your elements to match your preferred theme or brand – the options are limitless!
Indoor playground and soft plays areas
Modular indoor playgrounds are typically made to order and can be tailored to any building constraints. They can be completely customised to be as unique as possible! A multi-story structure also offers a large capacity in a small footprint. 
Our commercial indoor playground equipment is manufactured to the highest European safety standards and has evolved with the industry, providing a great customer experience that invites return visits by children and their families. 
Trampoline Parks
A trampoline park is the ideal pastime for the whole family, because unlike other indoor play activities there is almost no age limit to jumping up and down! Besides the fun, it has many health benefits as improved circulation and balance, and improved bone density through cardio fitness. Our bespoke trampoline parks can also be adapted to different age groups, according to your desired indoor play centre business model. 
Ninja warrior
Would you like to add some punch to your indoor play area? Our Ninja Warrior style obstacle courses are particularly popular with teens who love a good competition. But we also make less challenging ones for younger would-be ninjas! It is a very flexible indoor playground equipment, on a soft or hard surface with one or various levels, whose composing elements can be easily modified to give your customers fresh offerings every time they come around to their favourite indoor play centre.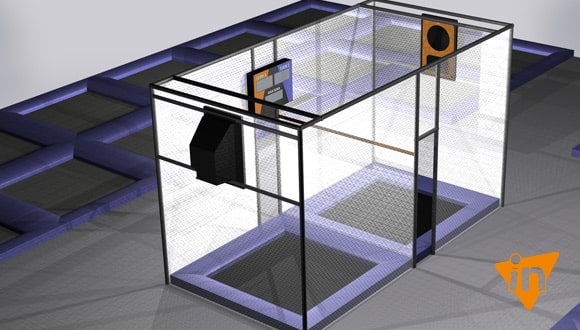 Interactive games
What better way to meet the needs of this increasingly digital generation than with interactive games?
As a complement to already existing attractions or as a full-fledged activity, these interactive sensory play equipment are of interest to all age groups. By using specific technologies, we create an engaging and stimulative environment where children can develop their cognitive skills. This indoor playground equipment is a big hit at family indoor play centres. 
Climbing wall
Climbing walls at indoor play centres come in a variety of shapes and sizes, suited to individuals of all ages. Young adventurers can move at their own pace and learn about the benefits of this sport in complete safety. 
With the self-bracing system, our climbing walls provide maximum safety for climbers while requiring minimal personnel. They are also easy to introduce to already existing leisure facilities. 
Virtual reality
A single helmet can transport the user to an infinite number of worlds.  The gaming options are numerous and provide thrilling experiences. All of this without the need for a large surface.
If you want to bring virtual reality into your indoor play centre business or start one from scratch, we can help you from installation to support. 
High Ropes course
The indoor adventure course! Thanks to their continuous safety harnesses, these acrobatic indoor playground equipment offer challenges that guarantee safety and fun. Children can freely test their agility and bravery. 
The level of difficulty is tailored to the age group and courses can also be adapted to any type of existing indoor play centre structure.